Travel Point Golf Tour
30.07.2017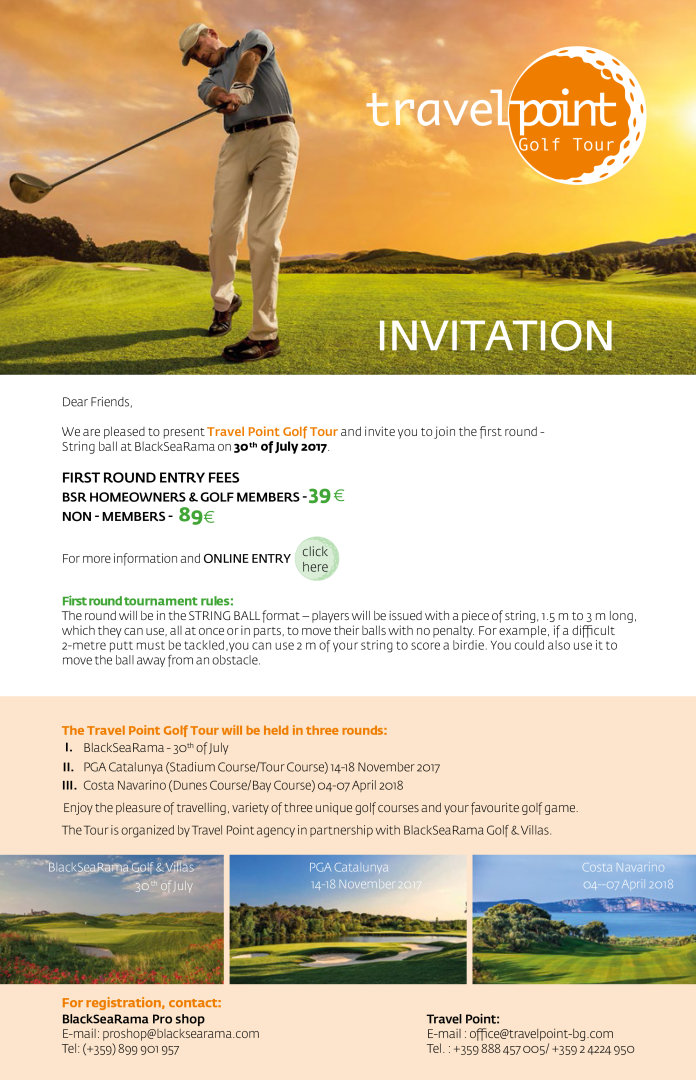 Join us for the first round of Travel Point Golf Tour - First round -
String ball at BlackSeaRama on 30th of July 2017
FIRST ROUND ENTRY FEES
BSR HOMEOWNERS & GOLF MEMBERS -
39 €
NON-MEМBERS -
89 €
First round tournament rules:
The round will be in the STRING BALL format – players will be issued with a piece of string, 1.5 m to 3 m long, which they can use, all at once or in parts, to move their balls with no penalty. For example, if a difficult 2-metre putt must be tackled, you can use 2 m of your string to score a birdie. You could also use it to move the ball away from an obstacle.
The Travel Point Golf Tour will be held in three rounds:
I. BlackSeaRama - 30th of July 2017
II. PGA Catalunya (Stadium Course/Tour Course) 14-18 November 2017
III. Costa Navarino (Dunes Course/Bay Course) 04-07 April 2018
Enjoy the pleasure of travelling, the variety of three unique golf courses and your favourite game.
For more tournament information, visit the official website:
http://www.travelpoint-bg.com/golftour/?lang=en